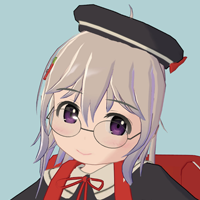 Misaka
I'm an uncle who was incarnated by a virtual beautiful little girl.
I have a pretty broad and shallow skill set, as I dabble uncontrollably in anything that looks interesting.
Mainly using Unity and Blender. I've created a variety of content including games, VR content, 3D models, 3D avatars, cluster worlds, videos and text articles.
I am the mother of Mekami Mimasaka.
[Background]
Worked as a web-related system engineer for about 10 years.
Responsible for server administration, system design,
development, and maintenance.
After that, working as a sole proprietor until now.
Video production, 3D modeling, 3D avatar production,
game production, etc.

[Productions]
Virtual Market 5
"Godzalla Booth" 3D Modeler
Virtual Market 6
"Daimaru-Matsuzakaya Booth" 3D Modeler
"DECAGEAR Booth" 3D Modeler
"Virtual Survival Game Room" 3D Prop Modeler
Music Vket 3
World Modeler
Virtual Market 2021
"Parareal-Shibuya" World Modeler
3D Prop Modeler
Virtual Market 2022 summer
"Parareal-Osaka" World Modeler
[Currently available work]
Creation of 3D models
(buildings, accessories, food, people, etc.)

3D environment construction, lighting adjustment,
load reduction, etc. in Unity.

[Software I can use]
Blender
Substance Painter
Substance Designer
Unity
Photoshop
Davinci Resolve

Mekami Mimasaka
I'm a virtual maid and android YouTuber living in a virtual world.
I'm doing a video about cooking and technology.
Please subscribe to our Youtube channel!